WEED WEDNESDAY: Serrated tussock (Nasella trichotoma)
08th Mar 2023
WEED WEDNESDAY: Serrated tussock (Nasella trichotoma)
WHAT'S THE IMPACT?
Serrated Tussock is a drought tolerant grass with low feed value. It takes over pastures and native vegetation and is not palatable to stock. Animals grazing on it become malnourished. Serrated Tussock can contaminate hay and grain.
Leaves are:
- whitish at the base, looking like shallots
- tightly rolled, narrow and stiff
- upright
- serrated, felt when drawing the leaf between your fingers
Seedheads are:
- on a spike that leans over
- clustered in a group up to 35cm long
- branched with a single flower on each branch
- wrapped in red/brown bracts
Seeds are:
- in a seed head on the flower spike
- golden brown
- hard and small, 1.5mm long
- with a ring of white hairs where they connect to the plant
- with an awn 25mm long, offset from the centre at the other end
Roots are:
- deep
- fibrous
- difficult to pull out of the ground even when plants are small
HOW DOES IT SPREAD?
Serrated Tussock seeds can spread long distances by wind and water. Ripe seed heads break at the base and are carried long distances by wind 10 km or more if conditions are favourable. Seeds also spread by feed, animals and machinery. Animals can pick up seeds in hooves, fleeces or coats. Serrated Tussock seeds remain viable even after passing through an animal's gut.
NEED MORE INFORMATION OR ASSISTANCE WITH WEED CONTROL? CONTACT A NEWA WEEDS BIOSECURITY OFFICER ON (02) 5775 9700 OR VISIT
WWW.NEWA.COM.AU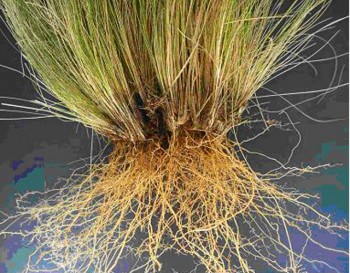 click for larger image