WEED WEDNESDAY: Coolatai Grass (Hyparrhenia hirta)
15th Feb 2023
WHAT'S THE IMPACT?
Coolatai Grass is an invasive drought, fire and herbicide tolerant tussock forming perennial grass. It is one of the few perennial grasses capable of invading undisturbed natural ecosystems and is a major threat to natural biodiversity in stock routes, nature reserves and National Parks.


Leaves are:
• greyish green in summer
• orange/red in winter
• flat
• 2-3mm wide


Seeds are:
• up to 35mm long
• attached to bracts 3-8mm tall


HOW DOES IT SPREAD?
Seed sheds quickly on maturity. The hairy, awned seeds readily adhere to the hair and wool of animals, clothing and is easily caught on and in vehicles. Along roadsides the seed is spread by the common practice of slashing for 'road safety'. The light weight of the seed also spreads by passing vehicles, particularly trucks. Cattle are known to graze the heads of Coolatai grass and it is assumed that some Coolatai Grass seed will survive the digestive track of cattle.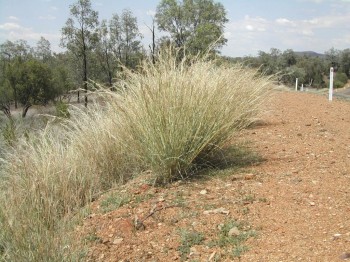 click for larger image