WEED WEDNESDAY: Whisky Grass (Andropogon virginicus)
29th Mar 2023
WHAT'S THE IMPACT?
Whisky Grass invades open woodlands, grasslands, forests and other native vegetation in eastern Australia. It prefers very open sunny areas and is particularly common along tracks and roadsides.

HOW DO I IDENTIFY IT?
Stems are:
- branched and mostly hairless
- reddish-brown when older or brownish-orange in summer
Leaves have a hairy to hairless leaf sheath partially enclosing the stem and a spreading leaf blade that is flat or folded, 10-40cm long and 2-5mm wide. Where the leaf sheath meets the leaf blade there is a small membranous structure topped with hairs.

HOW DOES IT SPREAD?
The light seeds may be easily spread by wind and water and can also adhere to animals, clothing and vehicles. They are also commonly dispersed to new areas when seeding plants are slashed or mown, and can also move longer distances in contaminated soil and agricultural produce.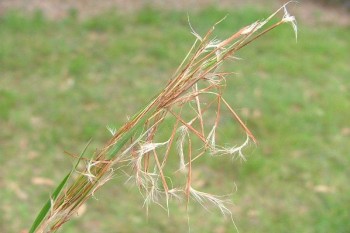 click for larger image