WEED WEDNESDAY: Blackberry (Rubus fruticosus spp. agg.)
22nd Mar 2023
Blackberry is a prickly, scrambling shrub that forms inpenetrable thickets that block access to humans and livestock. It quickly infests large areas and takes over pastures, is unpalatable to most livestock, reduces native habitat and fuels bushfires.
• alternate along the stem
• dark green on top, lighter green underneath
• covered in short, curved prickles
• absent in winter in cool climates
• vertical, arched or growing along the ground
• covered in sharp prickles
• in a crown up to 20cm wide
Blackberry produces a lot of seed. There can be up to 13,000 seeds per square metre under a Blackberry bush at the end of a fruiting season. Birds and animals feeding on the berries spread the seeds in their droppings. Seeds also spread by water and with soil.
When first year canes (primocanes) touch the ground, they sprout roots and become new 'daughter' plants. The next year, primocanes produce short canes with flowers and berries on the end.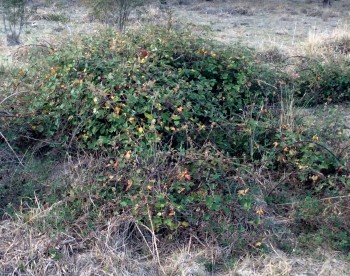 click for larger image