WEED WEDNESDAY: Bahia Grass (Paspalum notatum)
11th Jan 2023
HOW DO I IDENTIFY IT?
The leaves of Bahia Grass arise from short, upright shoots from the nodes, have 4-8mm wide blades which are 20-30cm long when mature, and have sheaths along the lower leaves which are usually white with a distinctive purplish coloured tinge. The stems of Bahia Grass are thick and fibrous with short internodes, held flush within the soil by deep fibrous roots. Seedheads have 2-3 racemes forming a 'V' shape, and have hairless spikelets that occur in 2 rows. They are elliptical in shape and shiny. Bahia Grass seeds are light brown in colour, clustered at the end of the stems and flat on one side - rounded on the other.


HOW DOES IT SPREAD?
Bahia Grass spreads slowly but surely. Poor seedling competitiveness limits spread, but once plants are established, they spread strongly by virtue of the stout prostrate runners, and a strong root system. Seed is spread through animal manure.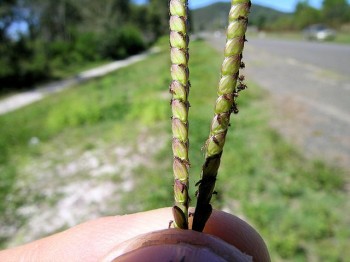 click for larger image